Bargain title full details:
"Ten eerste wil ik bedanken voor de geweldige manier waarop de bestelde boeken door INDEX Books worden aangeleverd. Fantastisch, netjes en overzichtelijk! Veel dank, het scheelt ons veel uitzoekwerk." - Tineke van Vugt, bibliotheek IJsselland Ziekenhuis.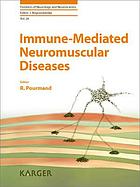 Immune-Mediated Neuromuscular Diseases. [Frontiers of Neurology and Neuroscience S., ISSN 1660-4431, vol. v. 26] / Pourmand, R.; Bogousslavsky, J.
S Karger AG, 30 April 2009. Switzerland.
170 p. 18 illustrations (9 in color), 15 tables.
Hardback, in original shrinkwrapping ISBN 9783805591416
Neuromuscular medicine is constantly advancing in terms of accurate diagnosis, pathophysiology, and treatment. Many disorders that have been discovered within this field are either autoimmune or genetic. This publication provides the latest updates of the more common and treatable autoimmune neuromuscular diseases affecting the spinal cord, peripheral nerves, neuromuscular junction and muscles. The authors, renowned experts in the field, offer clinical presentations as well as the best diagnostic and treatment approach to the readers. The chapters are dealing with acute and chronic neuropathies, nonsystemic vasculitic neuropathy, dysimmune neuropathy and autoimmune autonomic ganglionopathy. Further, disorders such as myasthenia gravis, Lambert-Eaton myasthenic syndrome, idiopathic inflammatory myopathies and stiff person syndrome are discussed. Providing an excellent source of up-to-date information, this publication is highly recommended not only to neurologists, but also to internists, rheumatologists, allergists and immunologists.

CONTENTS
Preface; Acute Neuropathies: Bromberg, M.B.; Chronic Neuropathies - Chronic Inflammatory Demyelinating Neuropathy and Its Variants: Ramchandren, S.; Lewis, R.A.; Nonsystemic Vasculitic Neuropathy: Update on Diagnosis, Classification, Pathogenesis, and Treatment: Collins, M.P.; Periquet-Collins, I.; Dysimmune Neuropathy: Kwan, J.Y.; Autoimmune Autonomic Ganglionopathy: Winston, N.; Vernino, S.; Myasthenia Gravis with Anti-Acetylcholine Receptor Antibodies: Meriggioli, M.N.; Muscle-Specific Receptor Tyrosine Kinase Antibody-Positive and Seronegative Myasthenia Gravis: Muppidi, S.; Wolfe, G.I.; Lambert-Eaton Myasthenic Syndrome: Pourmand, R.; Idiopathic Inflammatory Myopathies: Dimachkie, M.M.; Barohn, R.J.; Stiff Person Syndrome: Duddy, M.E.; Baker, M.R.; Author Index; Subject Index.