Bargain title full details:
"Fast. Excellent quality" - Tanja Reineke, Olten, Switzerland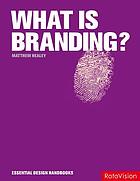 What is Branding?. [Essential Design Handbooks S.] / Healey, Matthew
Rotovision, 1 January 2008. Switzerland.
256 p. full colour illustrations throughout.
Hardback ISBN 9782940361458
It is an exciting time for branding. As everything becomes global, good branding becomes more crucial. "What is Branding?" Is an accessible guide that makes sense of this complex subject. It explores the process of branding, and shares insights that can be applied to practical challenges. Outlining the components of branding (positioning, storytelling, design, price, and relationships), what it can be applied to, and what it can achieve, "What is Branding?" Will help ensure the success of branding for any product, service, person, or place. Case studies included in the international portfolio of campaigns explain what makes them work, why they matter, and what can be learnt from them. Analysis focuses both on design know-how and on theory, looking at how professionals wrestle with abstract notions of perception, culture, and love while at the same time solving the nuts-and-bolts problems of package design, sign making, and web technology.

Matthew Healey is a freelance brand consultant and graphic designer. He has worked on several successful branding and design projects in Eastern Europe and now lives in New York, USA.