Bargain title full details:
"VERY considerate rate on the shipping. Unprompted and courteous contact. Excellent transaction." - T David Newman, Pittsburgh PA, USA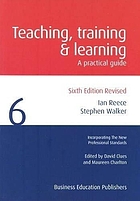 Teaching Training and Learning: A Practical Guide. 6th Revised edition
Reece, Ian; Walker, Stephen
Business Education Publishers Ltd, 3 September 2007.
480 p. Line drawings.
Paperback ISBN 9781901888560
Published for students studying 'Certificate in Education - post 16'. Outlines various teaching practices and methodology.