Bargain title full details:
"Wat een snelle service. Ze lagen vanmorgen zelfs al op mijn bureau!" - Sjoukje, UvA Amsterdam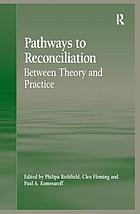 Pathways to Reconciliation: Between Theory and Practice
Rothfield, Philipa; Fleming, Cleo; Komesaroff, Paul A.
Ashgate Publishing Limited, 1 November 2008.
188 p.
Hardback ISBN 9780754675136
Reconciliation: what makes it possible, what impedes it, how to foster and promote it and how to build the social conditions in which it can flourish? These are pressing questions for an increasingly significant concept in community and international relations.This book is a creative engagement with the central terms of reconciliation - forgiveness, nationhood, conflict resolution, justice and memory - and with approaches to questions of listening and understanding the 'other'. It is premised on the view that an essential pathway to the achievement of reconciliation lies in developing and disseminating critical concepts that capture the nuances of practice.Drawing on fields in the social sciences and humanities, including post structuralism, hermeneutics, subaltern studies and social theory, and elaborated in relation to contemporary sites of conflict and peace-making, this collection brings together a unique range of perspectives on the complex issue of reconciliation while offering responses to the key questions being asked of it today.

CONTENTS
Foreword, Desmond Tutu; Preface, Jackie Higgins; Introduction, Paul Komesaroff; Part 1 The Complex Pathways of Reconciliation: Lead essay - evaluating reconciliation, Philipa Rothfield; The task of justice, David Pettigrew; Conflict resolution and reconciliation of peoples, Alphonso Lingis; Hegemony, ethics and reconciliation, Modjtaba Sadria; Telling a different story: hopes for forgiveness and reconciliation in Northern Ireland, Geraldine Smyth; Truth, reconciliation and nation formation in 'our land' of Timor-Leste, Damian Grenfell; Testimony, nation building and the ethics of witnessing: after the Truth and Reconciliation Commission in South Africa, Kay Schaffer; Reconciliation with the dead and other unfamiliar pathways, Julian Jonker. Part 2 Sites of Reconciliation: Lead essay - reconciliation: from the usually unspoken to the almost unimaginable, Paul James; Accountability, remorse and reconciliation: lessons from South Africa, Mozambique and Rwanda, Helena Cobban; Community reconciliation in East Timor: a personal perspective, Patrick Burgess; The role of economic development in reconciliation: an experience from Bosnia and Herzegovina, Vince Gamberale; Between denial and reconciliation: lessons from South Africa to Israel and Palestine, Daphna Golan-Agnon; The Australian reconciliation process: an analysis, Andrew Gunstone; Stepping forward: reconciliation and the good relations agenda in organizational practice in Northern Ireland, Derick Wilson; Index.

Philipa Rothfield is based at the La Trobe University, Australia, Cleo Fleming and Professor Paul Komesaroff are both based at Monash University, Australia.